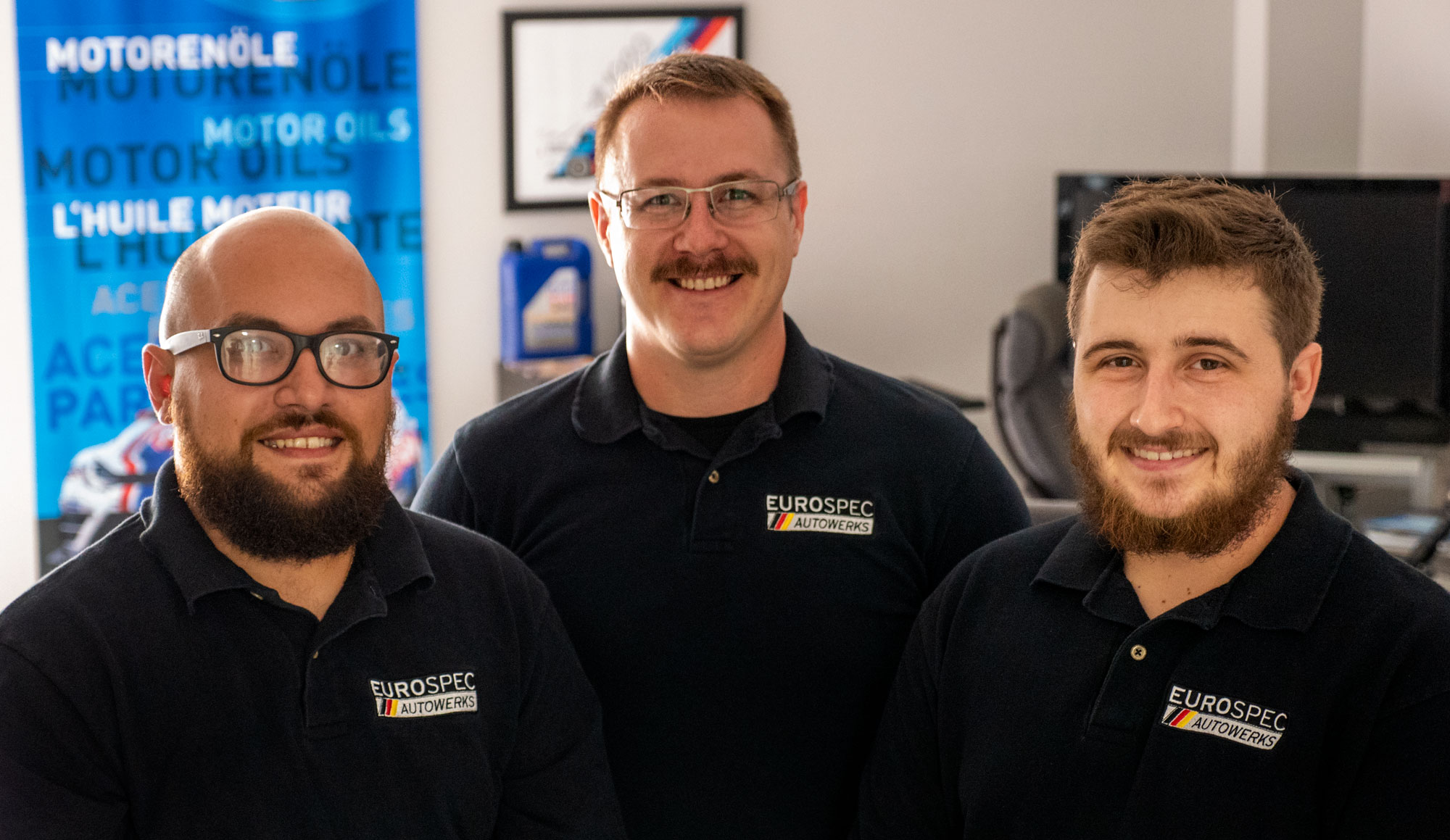 Our Story
EUROSPEC AUTOWERKS started as a group of friends who shared a love for European automobiles. Our fondness of the culture matured into a lifestyle as EUROSPEC AUTOWERKS began to take shape over the years.
We initially formed in response to a need for local enthusiasts who owned older, niche car models that a lot of modern dealerships and shops didn't want to touch. Today, we have evolved to servicing both old and new makes and models for our clients. Now, we get to do what we love every day while building relationships with those that share our passion.
Andrey
"I started working on European cars in high school and was always drawn to the style of Volkswagen's, Audi's, and BMW's. In my early 20's, I worked hard on getting a MKIV Volkswagen GTI exactly where I wanted it. I even brought it into the Airforce with me, and regret parting with it to this day. I enjoy the driving experience a European model gives you and love the culture surrounding them."
Cars I've owned & loved:
1995 BMW E36 M3
2002 Volkswagen MKIV GTI
2004 Range Rover
2008 Volkswagen R32 #1819
2013 Volkswagen Golf R
2007 Mini Cooper S
Tone
"My addiction to BMW's started when I drove a friend's E36 M3. I bought my first E30 soon after, which introduced me to the car community that I know and love today. I've always been very hands-on and spent a lot of my childhood dismantling and studying electronics and computers, which eventually matured into large hobby drones and vehicle engines. Entrepreneurship has always been in my blood, and being a part of EUROSPEC AUTOWERKS has allowed me to grow and develop both personally and professionally."
Cars I've owned & loved:
1986 BMW E30 325es - M52 swapped
1989 BMW E30 325i - S50 swapped
1990 BMW E30 M3 S14
1990 BMW E30 325i M20
1991 BMW E30 318is M42 slicktop
2000 BMW E38 750iL M73
2002 BMW E46 M3 S54
2007 BMW E90 335i N54
Jacob
"My father was a drag racer and I've been around cars since day one. My first car was a 1986 Nissan Z31 300zx which I converted into a drift car to compete in events with. I've also always loved the BMW 3 series and while I've owned an E30 in the past, I now have the next best thing, an E36 318ti which I swapped an M50 into. Welding is also a passion of mine, whether it's building a full cage, fuel cell, or full exhaust systems. I hope to complete more swaps in the future; always learning and perfecting my craft."
Cars I've owned & loved:
1995 BMW E36 318ti M50 Swap
1986 Nissan 300zx
1990 BMW E30 325i
1994 Nissan Hardbody
1989 Nissan 300zx
2007 Mini Cooper S
2007 BMW E90 335i N54