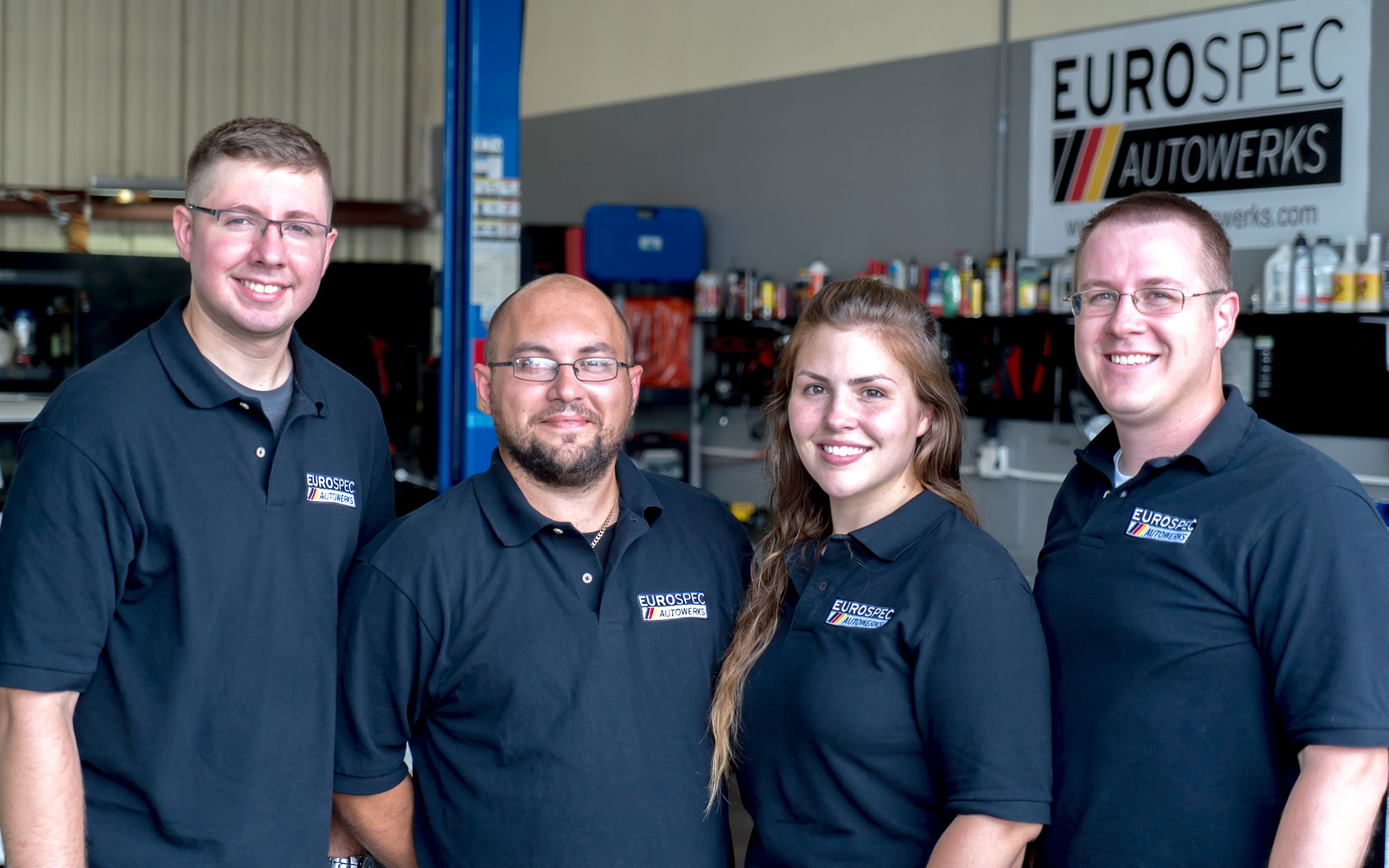 Our Story
EUROSPEC AUTOWERKS started as a group of friends who shared a love for European automobiles. Our fondness of the culture matured into a lifestyle as EUROSPEC AUTOWERKS began to take shape over the years.
We initially formed in response to a need for local enthusiasts who owned older, niche car models that a lot of modern dealerships and shops didn't want to touch. Today, we have evolved to servicing both old and new makes and models for our clients. Now, we get to do what we love every day while building relationships with those that share our passion.
Adrianne
"Growing up in Wisconsin, my dad was always building something or tinkering in the garage. A lot of our vacations included go karts and ATVs on a friend's farm or snowmobile trails in Michigan. I remember laying on the floor as a kid and pretending that the springs of my bedframe were a car that I was fixing. Years later, my interest was once again piqued when I rode in a friend's Stage II Volkswagen MKV GTI that threw me back in the seat when we took off, and I've been chasing that feeling ever since."
Cars I've owned & loved:
1984 BMW E30 325e
1991 Nissan D21 Pickup
1995 BMW E36 325
1995 BMW E36 M3
2000 BMW E46 Touring - M3 S54 and subframe swapped
2006 Volkswagen MKV GTI
Andrey
"I started working on European cars in high school and was always drawn to the style of Volkswagen's, Audi's, and BMW's. In my early 20's, I worked hard on getting a MKIV Volkswagen GTI exactly where I wanted it. I even brought it into the Airforce with me, and regret parting with it to this day. I enjoy the driving experience a European model gives you and love the culture surrounding them."
Cars I've owned & loved:
1995 BMW E36 M3
2002 Volkswagen MKIV GTI
2004 Range Rover
2008 Volkswagen R32 #1819
2013 Volkswagen Golf R
Tone
"My addiction to BMW's started when I drove a friend's E36 M3. I bought my first E30 soon after, which introduced me to the car community that I know and love today. I've always been very hands-on and spent a lot of my childhood dismantling and studying electronics and computers, which eventually matured into large hobby drones and vehicle engines. Entrepreneurship has always been in my blood, and being a part of EUROSPEC AUTOWERKS has allowed me to grow and develop both personally and professionally."
Cars I've owned & loved:
1986 BMW E30 325es - M52 swapped
1989 BMW E30 325i - S50 swapped
1990 BMW E30 M3 S14
1990 BMW E30 325i M20
1991 BMW E30 318is M42 slicktop
2000 BMW E38 750iL M73
2002 BMW E46 M3 S54
Tyler
"I was born with an interest in cars. I was raised in garages and at car shows with my father and grandfather, and worked in a few different auto parts stores throughout my teenage years. My ownership history spans from Dodge's to Nissan's, and BMW's to Mitsubishi's. I enjoy the challenge of completing engine swaps and custom work because it allows the driver to connect with a car on a personalized level."
Cars I've owned & loved:
1987 BMW E30 325e - M62B44 V8 swapped
1987 Mitsubishi Starion ESI-R
1994 BMW E34 530i
1998 Dodge RAM SS/T
2000 BMW 540i Sport - S62 swapped
2004 Dodge Neon SRT4
2008 Mitsubishi Evo X